Context
Is it crazy to decide to take on a 6-week intensive business design challenge just for fun when you're in the final four (and most intense) months of your Masters program? Yes, probably a little bit, but that's just what I did in January 2022 when a few pals from my cohort reached out about applying to the Rotman Design Challenge. Together with Alejandra Farias, Justine DeRidder, and Thomas Changarathil, we became Team Moonshot!
How did we land on Team Moonshot?
The sponsor company acting as the client for this challenge was SMBC Aviation Capital, an aircraft leasing company based in Ireland. We figured that most other teams would jump on the aviation theme, but we wanted to find a way to distinguish ourselves and our unique program. What was the next logical step?

Space.
Our foresight class focused on the future of space, and thinking about the aviation space and space ships, it felt like a great way to hint at our big picture, forward thinking foresight brains!

Watch our challenge submission video here!
How might SMBC Aviation Capital, a leading global aircraft lessor, re-design its current business model so that it may continue to thrive while also accelerating the decarbonization of the aviation industry?
Insights from stakeholders
One of the first things we did to get started on this project was speak to stakeholder representatives from SMFL, SMBC Aviation Capital, and Air Canada (one of SMBC's clients) to better understand their concerns, uncover their needs, and pull out insights. We categorized these insights by the industry, from SMBC, and from the airline perspective.
Insights from the industry
Everyone is trying to find a pathway to get to net 0 by 2050
A sense of shifting the burden
Something needs to be done...but what?
Insights from SMBC
Sustainable solutions have not been implemented and are not at scale
SMBC is the middleman with no entry point in the sustainability space
SMBC's reputation can be leveraged, but new players may arrive
Insights from Airlines
Have their own carbon emission offset strategies
The pandemic disrupted everything
Sustainability is deprioritized over safety
Researching our options
Understanding where our stakeholders were coming from was important, but we also needed to get some insight into what existing solutions had already been explored in this space to see what might be a viable way forward.
The unique nature of aviation means that there are limited options when it comes to decarbonizing the industry as a whole. And while some solutions seem promising and feasible, they are not necessarily viable. Many of the potential pathways come with a high rate of difficulty, uncertainty, and low potential for implementation by 2050.

Affinity Mapping
With a more fulsome understanding of the problem space, we completed an affinity mapping exercise to see if we could identify any common themes among our stakeholder insights.
We found these problems could be broken down into six main categories, and then split into the two main areas: Logistics, and Human Factors.
This was an important step because while many aspects of airplane leasing are focused on the logical and operational, ultimately we need to consider how humans process and embrace information, how they act, and how a business strategy can account for the not-so-logical human brain that may not understand in terms of efficiency or sustainability if it represents sacrificing safety or comfort.
After a long time looking back at SMBC's goals and challenges, true to human-centered design, and driven by this new understanding of the context, we decided we needed to reframe the original challenge question to address the root issue.

Reframed challenge question
How might SMBC Aviation Capital generate and capture value by leading a holistic strategy to decarbonize the aviation industry through collaborative action?
We then set out on an explorative journey, building empathy maps, journey maps, exploring the system as a whole. As we started to ideate, we realized that there are exponentially as many solutions as there are pathways to decarbonization.
In order to see if our solutions were desirable, viable, and feasible, we conducted several "test pitches" to a number of stakeholders with relevant expertise.
From them, we got initial validation for our research lab idea. We were reminded of the need to focus on research in a holistic way, leveraging overlapping strategies, and approaching decarbonization from a systemic lens. We were also advised of the need for diversification in investments, and advised us to reduce the complexity of our solution.
Once we had iterated, we hosted another round of testing with more experts. Based on our phrases of iteration, testing and expert input in our solution, we felt confident we had landed on the most desirable, feasible, and profitable solution that also accelerates the path towards the decarbonization of the aviation industry.
NZero Launchpad
We came up a solution we coined the NZero Laucnhpad that would contain two independent and uniquely valuable activities:
The NZero Research and Innovation Hub
The new NZero Fund- a brand new, Venture Capital Fund managed by SMBC
NZero Research & Innovation Hub
The idea here was adding significant resources and capabilities to SMBC's already active Innovation Hub, which will address research and development on longer-term challenges associated with decarbonizing the aviation industry.
NZero Fund
The other arm of the NZero Launchpad would use VC Funds to identify and invest in startups and growing companies that are generating solutions that can provide shorter-time horizons.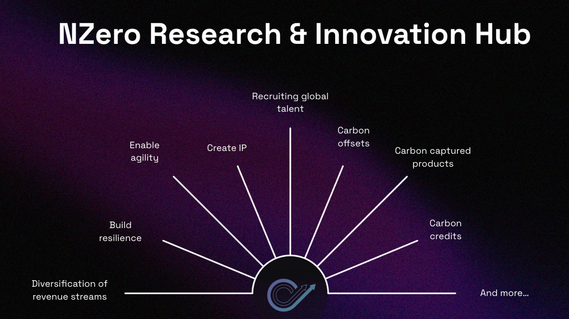 Launching the NZero Launchpad
The initial implementation of Launchpad represents the push to accelerate progress in decarbonization through a commitment to provide long-term investments and funding to the world-class experts, researchers, and entrepreneurs working to provide solutions to challenges in sustainable aviation. Launchpad will be focused on building a the networks and partnerships necessary to becoming a world-class research and development institute.
Once the VC fund begins turning a profit and the impacts of R&D efforts begin making impacts on removing barriers to decarbonization and adding new more innovative options, Launchpad will transition into is second stage. At this point, a portion of returns from the VC funds will be directed into the research and innovation hub, to increase its resource capabilities and accelerate its most promising R&D work. We are assuming an increase of operational costs of 10% per year throughout the second stage, to account for this increase in resource capabilities.
Financial Impacts
Admittedly, large scale finances of this sort are not my strong suit, and we were fortunate to have a team member who was willing and able to crunch the numbers to create a tangible estimate of our expected returns. I won't go into the weeds too much here, but essentially we researched the financial viability of R&D, and found 28% average returns of research institutes studied in a 2016 meta analysis, so we projected an overall return of 28% over 18 years for the Research & Innovation Hub.
The Results
Ultimately, we didn't win this design challenge. Disappointing? Yes. Surprising? Also yes! We felt really solid in our idea, our research, our process and in our presentation! While we didn't get the result we were hoping for, as a team we all agreed that we still stood by our idea and we were proud to have stayed true to our vision. Ultimately, we had decided to work on this challenge because we were missing the experience of working with a great team, and we honestly just wanted to have some fun. And if that's the success criteria?
Mission accomplished.